Why Italians Love to Talk About Food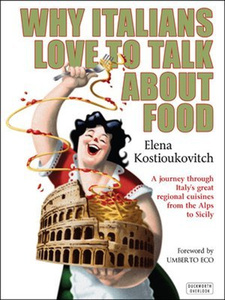 Why Italians Love to Talk About Food: A Journey through Italy's Great Regional Cuisines from the Alps to Sicily

When Elena Kostioukovitch first visited Italy, she was struck by the difference in culture, in particular the way Italians talk so passionately about food.

In this book she visits Italy region by region, detailing the enormous variety of local dishes. But this book isn't just about delicious meals. It delves into the culinary history behind the dishes of each region, when certain ingredients were introduced to Italy and how their use has changed over time. It also gives an insight into the diversity of Italian people and their culture - what makes each region unique and how different people talk about their love of food.

This is certainly worth a read for anyone who loves talking about food as much as Italians do, or anyone interested in Italian culture and history.