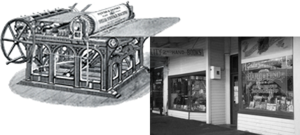 OUR DUNEDIN STORE IS OPEN, and OUR AUCKLAND SHOP WILL OPEN FROM WEDNESDAY 10th NOVEMBER UNDER "LEVEL 3.2" / In the meantime, staff are at the Ak shop 9.30-5.30 for phone requests/sales & to post out. OUR ONLINE INTERNET ORDERING IS AVAILABLE 24/7
There may be delivery delays depending on the status of courier and postal services but we hope you will support us with your purchases in this difficult time.
From rare and collectible books to modern 1st editions, from old hardback books to the common, cheap and cheerful paperback, the Hard to Find Bookshop Online is a treasure-trove of fascinating second hand books, a regular book depository. In all, we currently stock in the vicinity of 500,000 titles... just remember if you don't see it in our online listing we may still have it in the shop (neither of the shops list their current combined stock of aprox 140,000 books online). ALL ONLINE LISTINGS ARE PHYSICALLY LOCATED IN DUNEDIN
Old books, used books, antiquarian books, rare books, signed books and more... You can be a Renaissance person or just a casual reader...please take your time to browse our amazon of online bookshelves... Many of our books can't be found on Amazon or elsewhere. We strive to be the best bookshop we can be, in quality, range and service. We buy and sell all the time (we are easily the largest buyers of secondhand and antiquarian books in New Zealand, seeking the widest range - we want quality books on all subjects and interests from the rare to the recent - and any size of book collection)
Whether you are a serious collector, or you're simply looking for a particular unique book, Hard to Find Books offers the most comprehensive range in New Zealand!