Wearing the tartan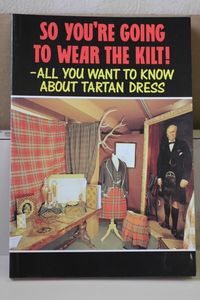 So You're Going to Wear the Kilt
by J Charles Thompson

Maybe you are going to be someone's best man. Maybe you are getting married. Maybe you are attending a graduation. Perhaps you have a special occasion to celebrate. Possibly you are just trying out your tartan for the first time.

Be aware that everyone loves a man in a kilt and everyone notices a man in a kilt so you want to be sure that you are doing everything correctly. This little book will steer you clear of all the usual faux pas and set you on the right path to looking good (and being correctly attired) in your kilt.

Whether it's the footwear, the socks, the shirt, the belt, the waistcoat, the jewelry, the medals, the garters or the sash (or what to do in very cold weather), you will find the answers clearly explained in this essential guide. Make sure you aren't the one singled out for having messed up standard Scottish practice!!

Enjoy your special day. Get a copy of this book and stride out with confidence.