The Cloud Garden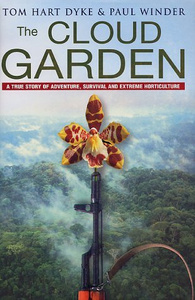 The Cloud Garden by Tom Hart Dyke and Paul Winder

This book comes highly recommended by one of our customers.

It is the story of a botanist named Tom Hart Dyke, whose passion for orchids leads him to travel to places many of us have never heard of. By chance he meets adventurous Paul Winder and together they decide to travel to the notorious Darien Gap.

The Darien Gap is a strip of land between Panama and Colombia. Mostly swampland and jungle, it is a place the Lonely Planet Guide's advice for is 'Don't even think about it!'. Despite hearing many stories of abduction and murder they decide the risk is worth it - Tom for the orchids, Paul for the thrill of the journey.

Tom and Paul certainly get their excitement and adventure, in fact a lot more than they had hoped for. A story of survival, kidnapping, and 'extreme horticulture' this is one armchair travel book that really will have you on the edge of your seat.