Otago Shipwrecks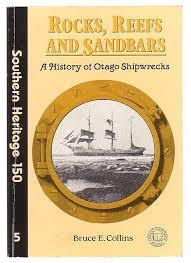 Rocks, Reefs and Sandbars: A History of Otago Shipwrecks
by Bruce E Collins

This book covers almost 150 ships which were wrecked around the Otago coast over a period of 158 years from 1837 onwards.

The first was a whaler called Sydney Packet, a schooner of 84 tons which ran aground at Moeraki Bay. The last mentioned in this book was a fishing vessel called Vapour which was wrecked in 1994 near Waikouaiti. Some of us probably remember the last being reported in the Otago Daily Times.

In between those two is a fascinating array of information about the wrecks and the human-interest stories associated with them. This is valuable as a reference work but is also very readable if you have an interest in shipwrecks, maritime history or the Otago coastline.