Warwick Jordan – the founder behind the bookshop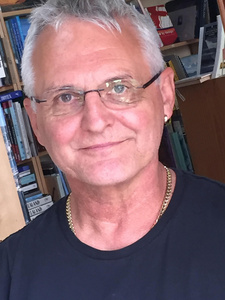 Warwick is obsessed with books and reading. His love of literature started when he was young - he won a writing prize at the age of ten - and has continued well beyond his five years at Waikato University where he gained a Masters in Literature.
After a slight career deviation into high rise window cleaning and three years on PEP East Coast Bays Council labouring scheme where he began as a labourer and ended up the only non-tradesman supervisor, Warwick continued his love affair with books managing a bookshop in Victoria St market for a couple of years before developing his own hand-operated letterpress printing and publishing business, Hard Echo Press, originally started in 1978.
Hard Echo Press has been on hiatus since 1991, but The Hard to Find Bookshop has consolidated its presence as one of New Zealand's best secondhand bookshops, and Warwick is currently concentrating on Hard to Find Books Online and developing the newly located Auckland store... generating a different and unique style. One thing that never changes is Warwick's passion for the treasure hunt to find books that excite both readers and collectors.
With his years of experience, he knows the value of books as pleasurable acquisitions or as old friends, and also from a commercial viewpoint (often intrinsic value can be at variance with financial value, and in Warwick's opinion nothing trumps sentimental value).