Whatever Happened to . . . . ?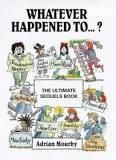 Whatever Happened to. . . . ? The Ultimate Sequels Book
by Adrian Mourby with illustrations by Graham Round

We have all finished reading a book and wondered how life turned out for the protagonists afterwards - after the end of the book, I mean. We have all been annoyed at some point by an improbably happy ending and wished to see the heroine subjected to a more deserved fate. And perhaps (when young and idealistic) we have wondered why the poor hero was destined to come to such a sad end.

I myself would have despatched Anna Karenina a lot earlier, given half a chance, and if I'd had my way, some of the Karamazov family wouldn't have lasted nearly so long.

In this book, Adrian Mourby allows us to read about a different outcome for Pinocchio, Frankenstein's monster, Jane Eyre, the Big Bad Wolf, Romeo, the Artful Dodger, Dorothy (she of the rainbow), Jim Hawkins (he of the island), Snow White, and Man Friday.

Light entertaining reading that can be dipped into when time isn't available for settling down with Tolstoy or Dostoevsky.