What's the connection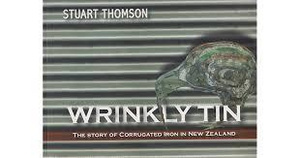 What connects all of these: a roof, a dunny, a cowshed, a haybarn, a feed silo, a postbox, a mountain hut, a boatshed, a crib, and an architectural fashion statement?

Even those who guessed the connection immediately will enjoy Stuart Thomson's
Wrinkly Tin: The Story of Corrugated Iron in New Zealand
and those who didn't get the answer will be amazed at this A to Z of corrugate. It has far more uses than I've mentioned and if you cast your mind back to any tiki-touring you've done around the country, you can probably add another 10 examples of your own straight away.

This is a much more interesting read than its title might lead you to believe and given that it is impossible to imagine New Zealand without corrugated iron you might as well learn some more about it.