What is the common thread here?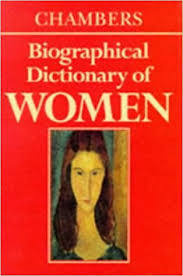 What do all these people have in common?
Mary Astor, Bonnie Rait, Ruth Park, Golda Meir, Nadia Comaneci, Patricia Grace, Itsuko Hasegawa, Luce Irigaray, Irene Joliot-Curie, Lotte Lehmann

You may have noticed they are all women - and you would be correct. You may also have noticed that they are gymnasts, scientists, writers, architects, politicians, and actresses and wondered what they could possibly have in common apart from being female. But the other thing they have in common is that they all appear in Chambers Biographical Dictionary of Women.

So get yourself a copy of this fascinating book and dip into it at random for sheer interest or look up particular entries to find out a bit more about a woman whose name you've just heard. Once you've got your own copy, you can find out why Kate Wilhelm, Elisabeth Soderstrom, Camilla Ravera, Rigoberta Menchu, and Ruth Ellis are famous - or maybe infamous. It's not just the famous who are covered here.