Walk around Dunedin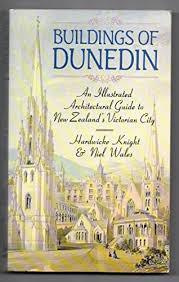 Buildings of Dunedin: An Illustrated Architectural Guide to New Zealand's Victorian City
by Hardwicke Knight & Niel Wales

You can't possibly be thinking of walking around Dunedin today BUT when the weather improves you could get hold of a copy of this fantastic little book and wander around the city looking at all the buildings (not just the Victorian ones either).

Dunedin hasn't lost quite as many of its heritage buildings as some other cities in New Zealand (although it has still allowed far too many to go) so it is considered by some to be of national architectural importance.

You couldn't fail to enjoy dipping into this book for information and the pleasure can only be enhanced if you combine it with actually wandering the streets and looking at the actual houses themselves. Come in and get a copy.