University of Hard Knocks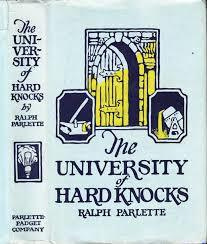 The University of Hard Knocks: The School that Completes our Education
by Ralph Parlette

"The greatest school is the University of Hard Knocks. Its books are bumps. Every bump is a lesson. If we learn the lesson with one bump, we do not get that bump again. We don't need it. We have travelled past it. We move to the next bump..... Some of us learn to go forward with a few bumps, but most of us ... do not learn the lesson....and the bump must come back and bump us again.... most of us have to be pulverised."

Teaching a wilful child or being happy in your work, it's all dealt with in this book. It may have been written over a hundred years ago but the two colleges of the University of Hard Knocks are just as relevant now as they were then: The College of Needless Knocks and The College of Needful Knocks.

"It is so hard to tell young people anything. They know better." Any book with that in it must be worth reading.