The Man Who Mistook His Wife for a Hat - Oliver Sacks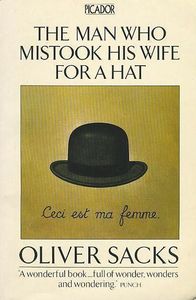 In this fascinating book neurologist Oliver Sacks recounts some of his most interesting case histories. A man who lost the ability to recognise everyday objects and people's faces, a woman who doesn't feel her limbs are her own, twins who could figure out in seconds what day of the week Christmas will fall on in 8000 years but can't grasp basic multiplication, and many more.

While describing the science behind what his patients are experiencing, Dr Sacks also reveals the people behind the diagnoses, how they cope and in some cases how they learn to embrace their disorder and use it to their advantage.

This book will entertain, educate, inspire, and above all give you a greater appreciation for the complex workings of the human brain.

A must-read for anyone interested in psychology, neurology, or how we perceive the world around us.