The Indian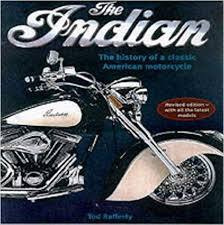 The Indian: The History of a Classic American Motorcycle by Tod Rafferty

For all motorbike fans, this is a beautiful book with superb illustrations featuring the Indian Motorcycle COmpany. These days it's hard to believe that it was miles more successful than Harley Davidson in the past.

This is a history of the company, its racing successes, its manufacturing dominance, its beautifully built machines, and the sheer magic of the Indian name.

Feast your eyes on a huge range of models, including of course Burt Munro's famous Bonneville world record bike. Get a copy for yourself or a motorcycle enthusiast friend.