The Golden Turkey Awards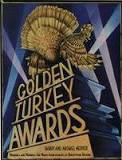 The Golden Turkey Awards: The Worst Achievements in Hollywood History
by Harry & Michael Medved

This book presents awards to honour the worst in cinema history. Half the fun is trying to guess which films will be nominated in each category and then attempting to predict the winner (with very little success in my case).

Some of the categories are:
The Worst Rodent Movie of all Time
The Worst Lines of Romantic Dialogue in Movie History
The Worst Title of All Time
The Most Ridiculous Monster in Screen History
The Worst Actress of All Time

And here are some nominees - see if you can guess the category:
Farrah Fawcett in Myra Breckenridge & John Travolta in The Devil's Rain
Attack of the Killer Tomatoes & Attack of the Mushroom People.

If you like this, you might also enjoy The Fifty Worst Movies of All Time, which they also wrote.