The Best of Whim Wham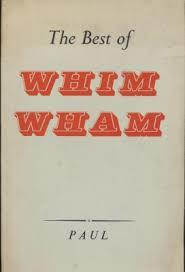 Whim Wham was the pen-name of Allen Curnow when he wrote in the New Zealand Herald, the CHristchurch Press etc. Here's a taster from the time of the infamous under-arm bowling incident.

Sir, let's be grateful for the Game of Cricket
And I'll tell you why.
Could anything Else make our Rob and their Mal
See eye to eye?
Though I imagine our Ocker opposite number
Wouldn't care much
For the Muldoon idiom, and especially
That 'yellow' touch.
Still, you can't say they didn't both step out
of the political role,
On the issue of a bowler and a ball his brother
Told him to bowl.
Now the fingers have been wagged and the breasts beaten,
And the matches won,
We can laugh up our cynical sleeves, I suppose,
About what's been done -
And the old hands of cricket will grieve for
The game that's past -
White the Tee-vee sponsors and Mr Packer have
The laugh that's last.
And the PMs can get back to the serious business
Of arguing out relations
(in the spirit of the game, of course) between
Our two great nations,
And I have this odd thought, however they play,
It's obvious that neither
Can say some government policy 'isn't cricket' -
Cricket isn't either!

THis is a very entertaining way to study history.