The Backyard Bestiary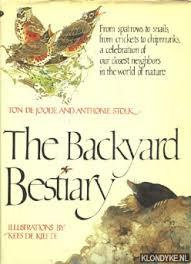 You don't need to battle into the jungle or clamber up the sides of great mountains or head off into the wilderness to find strange and beguiling little beasts, birds, and insects. Your garden is crammed with such creatures so just wander outside and get to know your closest neighbours. All you need for inspiration is a copy of this lovely book:

The Backyard Bestiary
by Ton de Joode & Anthoine Stolk and illustrated by Kees de Kiefte

This is a really appealing look at the world of nature which is all around us, in our backyards and in the nearby countryside. You will learn to appreciate the beauty and complexity of the habits and abilities of many of the common residents that we often know very little about. There is a great deal of interest and charm to be found in a closer look at the spiders, worms, slaters, ladybirds, wasps, snails, butterflies, bees and birds just outside the back door.

The beautiful paintings add to the pleasure of reading this book and as you dip into it, you'll be wanting winter over so you can get outside and marvel at the natural world on your doorstep.