Test Yourself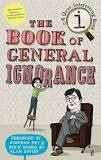 Rather than rushing out trick or treating tonight (a horrible American import), why not slouch down on your sofa, refuse to answer the door, and test your general knowledge?

The Book of General Ignorance
Stephen Fry & Alan Davies

Try these:
What were really Nelson's last words?
What do camels store in their humps?
What did Captain Cook give his men to prevent scurvy?
Which country has the world's highest suicide alert?
Where did Marco Polo come from?

You can get a copy of the above book before you go home and find out the answers to the above and many more.