Stupidity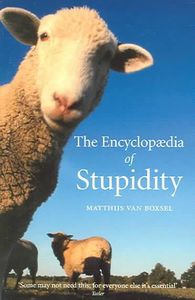 Stupid, foolish, dull, thick, dense, brainless, ignorant, mindless, idiotic, asinine, dim, witless.

The Encyclopaedia of Stupidity
by Matthijs Van Boxsel

"Stupidity forced man to develop his intelligence but intelligence is no guarantee of self-preservation. Indeed, intelligence can boost stupidity. For example, stupidity comes to the fore in the smouldering civil war we wage on the highways, which, worldwide, causes hundreds of thousands of fatalities every year - not to mention serious injury. This chronic catastrophe makes less of an impression than a one-off disaster, such as an aeroplane crash."

This book is a compilation from the fields of art, fairy tales, history, poetry, maths, science, and general knowledge. It is entertaining and clever and sometimes quite funny. It will certainly make you think and it will provoke a reaction.

Mad cows are the result of recycled butchers' waste.