Shakespeare scholars & fans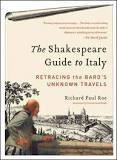 Richard Paul Roe's
The Shakespeare Guide to Italy: Retracing the Bard's Unknown Travels

Sir Derek Jacobi said this book is "exciting, original and convincing" and another reviewer said it was "part thrilling detective story and part sober scholarly treatise".

The author used Shakespeare's plays Romeo & Juliet, The Two Gentlemen of Verona, The Merchant of Venice, Much Ado about Nothing, The Tempest etc (all the 'Italian' plays) and tried to determine the exact location of nearly every scene. This book is the result of 20 years of travel around Italy and much painstaking analysis. It will apparently change the way we read Shakespeare and alter our opinion of who he really was.

The above is just one example of a whole load of books on Shakespeare that we have recently bought. Here are a few more to whet your appetite: How Shakespeare changed everything; Shakespeare's Insults; Gender in Play on the Shakespearean Stage; Bardisms; and Bill Bryson's Shakespeare.