Rugby's Strangest Matches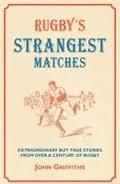 Rugby's Strangest Matches: Extraordinary but True Stories from over a Century of Rugby
by John Griffiths

Whether you play, referee, coach, write about, film or just watch rugby, you will love this book; the remaining 2% of the popuation who don't fit into any of the above categories will not!

The book covers unusual moments, strange incidents, outstanding performances and occasional violence from 140 years of rugby. It is a fascinating assembly of good, bad and utterly bizarre events. For example:
111 line-outs in one game
All Blacks beaten by schoolboys
Injured running onto the field
Irish team with three pairs of brothers in it
An unknown amateur in an England XV (selectors' cock-up)
Read it yourself and then pass it on. You will undoubtedly enjoy the stories of these remarkable rugby moments.