Romancing the Ordinary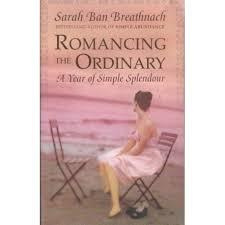 Feeling weary? In need of a little comfort? Require some pampering? Looking for sheer escapism? Want a treat?

Sara Ban Breathnach's Romancing the Ordinary: A Year of SImple Splendour is just what you need. It takes you through a year of pampering, 365 days of comfort, twelve months of escapism or four seasons of pleasure.

Learn how to indulge yourself with scented baths or lose yourself in a superb novel, stuff rich lusciously iced chocolate cake down your throat or sink into a welcoming armchair beside a roaring log fire, fall into freshly washed and ironed pure cotton sheets or sob to your heart's content with a romantic tear-jerker of a film. This book will help you to fall in love with your life. Give it a go.