Portrait of a Culture: The Trotskys, Freuds, and Woody Allens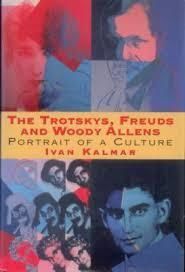 What do Freud, Einstein, Trotsky, Woody Allen, Sarah Bernhardt, the Marx Brothers, Bobby Fisher, Noam Chomsky and Bette Midler have in common?

They are all non-practising Jews. Does that matter? According to this book, it certainly does. They are one of the most fascinating and controversial cultural groups of modern times. They win loads of Nobel Prizes; they are prominent in the arts, visionary in the sciences, active in social causes and successful in politics, to mention but a few of the intellectual fields where they excel.

Ivan Kalmar explores this group who he calls 'eji' (pronounced 'edgy'), an acronym for embarrassed about being a Jewish individual. He suggests that this discomfort has propelled them to excellence in many areas.

He tries to answer these questions and many others:
Why are they experts in physics but not zoology?
Why do they play the piano & violin so expertly but rarely the flute?
Why are there superb Jewish actors but so few dancers?

Whether or not you agree with Kalmar's theory. this is a stimulating book which will provoke discussion and thought. It is alternately outrageous, witty, original and contentious.