Poor People Poor Us by John E Broad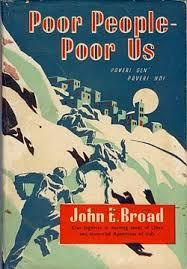 If you are a National Radio fan, you may have heard a fascinating slot on Katherine Ryan's programme yesterday (22nd June). Harry Broad, a journalist, was talking to her about his recent visit to Italy and why he made the trip.

His father, John Evelyn Broad, wrote a book in 1946 called Poor People-Poor Us (Poveri Gen' Poveri Noi) which tells the story of three escaped Kiwi fugitives in the burning sands of Libya and the snow-clad Apennines of Italy. It is a saga more thrilling than most fiction. It is also a heartwarming story of how the New Zealanders were hidden from the Germans in manure heaps and freezing caves by Italian peasants, who went out of their way at enormous risk to shelter freed prisoners of war.

It is highly recommended that you listen to the RNZ programme and read the book if you can lay your hands on a copy.