Plunge into Philosophy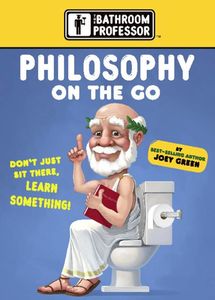 The Bathroom Professor: Philosophy on the Go
(Don't Just Sit There, Learn Something!)
By Joey Green

If you're looking for a quick. painless way to impress other people with a knowledge of philosophy that you don't possess, then take this little book with you every time you go to the loo and make good use of all those idle moments you spend just sitting there!

It isn't just a joke (although it's written to entertain) since you will learn something about the world's great philosophers and schools of thought. After reading this book, you will be able to fake your way through erudite dinner-table conversations but you will also develop a deeper understanding of why philosophy is such an endlessly fascinating field of study.

You can't really beat the combination of simplicity, brevity and wit which educates and and enlightens at the same time.