Overreating? Overindulging? Giving in to temptation?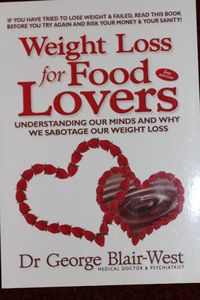 If you answered yes to any of the above questions (and who doesn't at this time of year?) then we have the book that will bring you back from the brink.

Weight Loss for Food Lovers:
Understanding our Minds and Why We Sabotage our Weight Loss
by Dr George Blair-West

If you have tried to lose weight and failed, read this book before you try again. It will not only save you money (only $10.00 for a brand new copy) but it will probably save your sanity as well.

This is not a diet book. It doesn't offer menus or calorie charts or exercise regimes. It won't offer quick weight loss followed by immediate weight gain (plus some). It won't even tell you what NOT to eat. That is what this book doesn't do.

What Dr Blair-West does is explain why most diets fail people (rather than the other way round). And you may not be surprised to read that he states the main reasons for failing are a genuine love of food, a rebellion against excessive deprivation, and the fact that there are actually benefits to being overweight. In other words, sometimes dieters actually sabotage their own weight loss plans.

This is a novel approach. Buy yourself a copy so you can get started straight after the festive season excesses are over and done with.

Jackie Gleason: The second week of a diet is always easier than the first: by the second week, you're off it.