Nursery Rhymes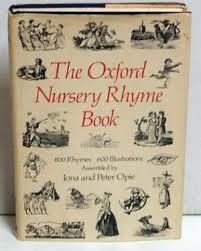 Most of us can no doubt finish off the nursery rhymes below with very little effort:
1. Hickory, dickory, dock...
2. Mary, Mary, quite contrary.....
3. Little Bo Peep has lost her sheep.....
4. Twinkle twinkle little star.....

But The Oxford Dictionary of Nursery Rhymes contains much much more than the very well known rhymes, limericks and riddles. In this book, you will not only come across verses that you've never seen or heard before but you will also learn a lot of interesting information about the ones that you already know.

Here's a very well known but seasonally appropriate one
Hot cross buns!
Hot cross buns!
One a penny, two a penny,
Hot cross buns!
If your daughters do not like them
Give them to your sons.