Niue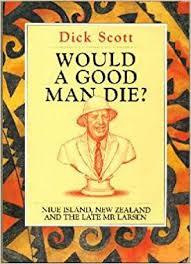 Dick Scott's
Would a Good Man Die? Niue Island, New Zealand and the Late Mr Larsen

A fascinating read which does not reflect at all well on New Zealand's presence in Niue. It will appeal to anyone who is interested in Niue, in Polynesia and its history in general, and those who want to know the truth about the Larsen administration.

Hector Larsen ruled Niue as commissioner for 10 years and was killed in 1953 by three young Niueans. The last of these three was not actually set free until 1970. You need to read this book to find out the whys and wherefores (and be horrified and shamed by our colonial past).