Ngai Tahu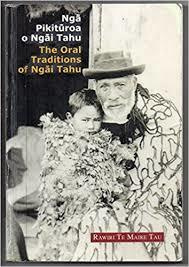 Rawiri Te Maire Tau
Nga Pikituroa o Ngai Tahu / The Oral Traditions of Ngai Tahu

In this book, Tau examines the waiata, karakia, whakapapa (songs, chants & genealogies, for those who don't know), myths, rituals, traditions and place names of Ngai Tahu. He addresses the question of what is myth and what history. He looks at the differences between the traditions and beliefs of Ngai Tahu and other tribes.

Ths is not meant to be a history of Ngai Tahu; rather it is a fascinating investigation into how, why and by whom the tribe's traditions were formed and how much the oral traditions can tell us about Ngai Tahu's past.