New arrival in our shop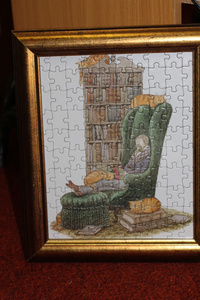 This is what has just arrived in our shop today. A present for one of our staff from her lovely mum but viewing is generously to be shared with customers and staff who loiter around the counter. Come in and have a look at it.

It's called "Bibliophile with Cats" It was originally a jigsaw and has been tastefully framed to make it a joy to display. It is by Edward St John Gorey, an American artist, who was born in 1925 and died in 2000.

Do come and have a look!