New Zealand novel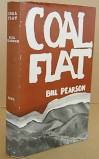 Bill Pearson's Coal Flat
This 1963 novel is set in a small, isolated West Coast mining town. It is said that although the name is fictitious, most Coasters will have little difficulty identifying it. The town serves as a microcosm of New Zealand life and the personal and social problems of the time. The mine dominates the town as the mine's union and its workers and politics dominate the book.
Coal Flat tells the story of Paul Rogers who arrives in the town to work at the school. He is set apart by his education and by his unusual and not readily accepted position as a conscientious objector. Through him, many social themes and problems are explored.

To find out whether tradition and conservatism triumph or whether idealism and difference win out, you will need to pop in and pick up a copy of Pearson's novel. It is a great book and worth rereading.