New Zealand myths & legends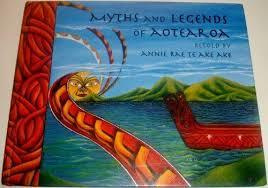 Myths and Legends of Aotearoa
Retold by Annie Rae Te Ake Ake

Fifteen Maori stories are retold in this book by Annie Rae Te Ake Ake. The stories are illustrated by secondary school pupils from all around New Zealand. These timeless tales hold the interest whether you're a first-time reader of the legends or you're reading myths you learnt about as a child to your own children.

Learn about Rangi, Papatuanuku, Tane, Tangaroa, Rongi and many other gods. Fascinating stories whose aim is to strengthen awareness of Maori wisdom and spirit. As Witi Ihimaera said, "If the children of the present are not involved in the telling of the stories of the past, New Zealand will have an incomplete future."