Mah Jong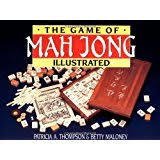 If you are one of those people who have a beautiful set of mah jong tiles languishing on the shelf in your wardrobe or lying forgotten at the back of a drawer, now is the time to dust it off and learn to play.

Mah jong is a table game for four people which has been played in China since the time of the Qing dynasty. It is easy to learn (apparently) and playing is meant to be very good for your brain.

The best way to learn the strategies is to buy a book. The book will teach you to play and it will also ensure that you then have a clear set of rules to avoid confusion and arguments when playing with competitive types! Pop in and buy a copy and get started.