Literary Quiz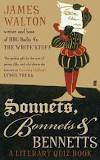 Sonnets, Bonnets & Bennetts: A Literary Quiz Book
by James Walton
(Note: No spelling error in the above title: the Bennetts refers to Arnold and Alan)

Fingers on buzzers:
Which literary character's first words to whom are, "How are you? You have been in Afghanistan, I perceive."
Who was the first British writer to win the Nobel Prize for Literature - in 1907 if that helps?
What's the only book for children written by James Bond creator, Ian Fleming?
What are the first three words of Moby Dick? And who wrote it?
Who is the only person in literary history both to have been shortlisted for the Booker Prize and to have played a girlfriend of Ken Barlow's in Coronation Street?

If you enjoyed those, you need a copy of James Walton's book. It is designed so you can just read it for pleasure, bone up on facts to impress, or host a quiz night.