Last day of dust jackets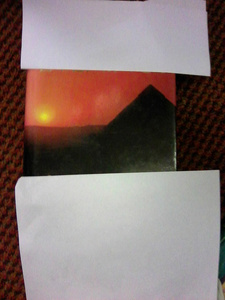 Yesterday's dust jackets came from two very different authors. One is a famous New Zealand children's writer Margaret Mahy. The book was called The Magician of Hoad. If you haven't read any of her stories to your children, get started now. They are really enjoyable and generations of kiwi kids have grown up addicted to her books.

The second wrapper was from a book called The Comedians by Graham Greene, a very good read, as are all his books. I would say they are must-reads if you haven't already done so.

Try and see if you recognise the dust jacket of today's picture. Only one today as it is quite difficult (I think). A small hint: it is not the Lonely Planet Guide to Egypt.