Knitting and Tatting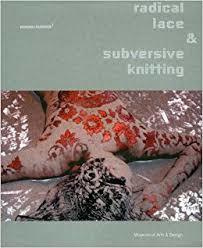 When I mention knitting or tatting, I expect your minds turn to babies' bonnets, children's jumpers, gloves and mittens, scarves, woollen jerseys for winter and the like; but this is not knitting as you know it.

Radical Lace and Subversive Knitting
by David Revere McFadden with Jennifer Scanlan and Jennifer Edwards

This was an exhibition of work at the Museum of Arts and Design by a group of contemporary international artists who use fibre in a variety of innovative ways. You can see traditional knitting and lacemaking techniques used with unexpected materials and/or in surprising ways.

Radical Lace & Subversive Knitting features an article on each of the 27 artists represented here alongside lovely photographs of the works they had in the exhibition. Broaden your horizons and have a read of this interesting book: it is a great introduction to the use of materials in the visual arts and how the boundaries of art, craft and design have pretty much dissolved.