Katherine Mansfield Short Stories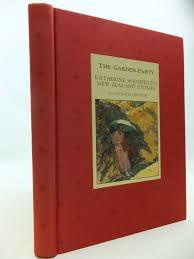 The Garden Party: Katherine Mansfield's New Zealand Short Stories

This is an Illustrated edition of Katherine Mansfield's short stories. It is published by Century Hutchinson and is a lovely volume with patterned red cloth boards and an illustrated title label on the front board.

Among the artists represented are Christopher Perkins, Raymond McIntyre, Rhona Haszard, Maud SHerwood, Thomas Ryan and lots of paintings by the marvelous Frances Hodgkins. Each story has its own painting plus a lovely flower illustration.

Stories include How Pearl Button Was Kidnapped, The Stranger, The Canary, The Voyage and another 12 stories.