It's Agatha Christie again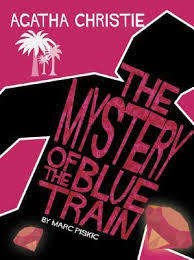 Following on from yesterday's book, we now also have a copy of Agatha Christie's The Mystery of the Blue Train and once again it is a comic version. If you prefer to call it a graphic novel version that is fine.

This one is by Marc Piskic and was also published by Harper Collins in 2007. It is also in beautiful condition but the joy is that it is MUCH cheaper than yesterday's book.

You have to come in and see it. As I said yesterday, comics/graphic novels are not my thing at all but there is something appealing about it, especially if you are an Agatha Christie fan.