Istanbul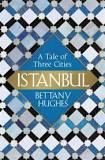 Istanbul: A Tale of Three Cities
by Bettany Hughes

This book is a biography of what used to be called Byzantium, then Constantinople and now Istanbul. It is a historical journey through the many incarnations of one of the world's greatest cities. It is peopled by emperors, viziers, caliphs, and sultans along with the hundreds of thousands of nameless men and women who have continuously populated Istanbul for so many centuries.

As the gateway between East, West, North and South, it has served as the capital of the Late Roman, Byzantine, Latin and Ottoman Empires. It has been visited by fire, siege, battle, invader, conqueror, friend, foe, crusader, plague, war and just about every religion under the sun. Its culture, art, architecture and history is beyond compare.

Bettany Hughes takes the reader on a dazzling journey filled with history, colour, imagination, life and romance through the many incarnations of this amazing city.