How to have the last word (with style)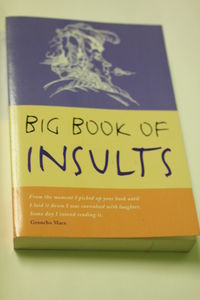 Big Book of Insults by Nancy McPhee

"Many thanks for your book. I shall lose no time in reading it." Guess who said that and when?? And that's just a taster to get you started.

A razor-wit is probably something many of us have envied time and again during our lives. The ability to produce an impudent riposte that amuses your friends or the sharp one-liner that disconcerts your enemies is a skill that a lot of people would like to possess.

This Big Book of Insults contains some of the greatest derogatory quotations and imaginatively nasty invective from a wide variety of sources, both old and new, and covers every topic under the sun from history, politics, literature and love to death and revenge.

Read this book and marvel at the verbal dexterity and wittiness on display. I am hoping that some of it will rub off on me so that I can occasionally think of a nasty epithet in a timely fashion rather than a day too late. I fear that I will live in hope!

And another taster for farewell:
Lady Astor to Winston Churchill: If you were my husband, I should poison your coffee.
Churchill to Lady Astor: Madam, if I were your husband, I should drink it.