Growing old disgracefully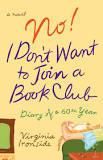 Hilarious. Wise, Funny. Heart-warming. Poignant. Entertaining. Thought-provoking. Sparkling. Engaging. Satisfying. Pacy. Charming. Witty.

Those are just a few of the adjectives being thrown at this diary of growing old disgracefully:
No! I Don't Want to Join a Bookclub
by Virginia Ironside

Billed as a cross between grumpy old woman and Bridget Jones, it should be read by those too young for Stannah Stairlifts, corn pads and walk-in baths but not too young for comfy shoes and evenings in front of the tv.

I haven't read it but get yourself a copy, relax and read it this weekend and then write us your own review.