Great Places to Stay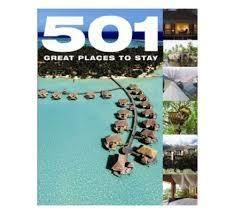 501 Great Places to Stay

The sun is shining. It's unexpectedly hot. The skies are blue. And summer appears to be here at last (although autumn is only a week away). Alternatively you're not in Dunedin and you're stuck in mid-winter in cold, wet, rainy, miserable weather. Either way, your thoughts naturally turn to holidays and travel.

Grab a copy of this book and flick through all the amazing places you can stay almost anywhere on the planet: an underwater bedroom, a treehouse, an old bull ring in Mexico, a riad in Morocco, a safari camp in the Galapagos, a mud hut in India, an ice hotel in the Arctic Circle, an eco-resort or an island paradise, whatever you fancy, you'll find it in this book. In fact, you'll undoubtedly find far more and varied options than you expect.

If you have already used up your holiday or have no money for travel, you can still dream away a fair few happy hours browsing through this selection of exotic and stimulating places to stay. The myriad fascinating possibilities are a feast for the eyes as well.