Golf and Humour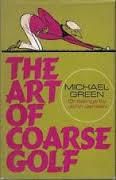 The Art of Coarse Golf
by Michael Green and drawings by John Jensen

"Most of us have no holes-in-one or abatrosses to dream over, merely memories involving .... the humiliating crash of breaking glass that follows the use of a three-wood off the fairway."

This is a must for every golfer or would-be golfer but can also be enjoyed by the non-golfer. The book is entertaining and amusing and is packed full of anecdotes and "advice" on how to manage at golf. It is accompanied by John Jensen's lovely illustrations which perfectly complement the text.

There are lots of other books in this humorous series: The Art of Coarse Cricket, The Art of Coarse Drinking, The Art of Coarse Rugby, The Art of Coarse Acting, The Art of Coarse Sailing and more. It is worth looking to see if Mr Green has written one about your favourite pastime. You will be charmed while you read and then it will double up as a gift for a like-minded friend.