Fishing's Best Short Stories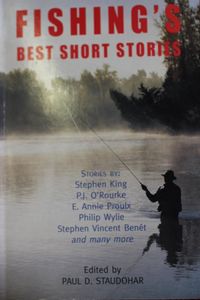 This series of books aims to present the very best short fiction on popular sports. The series also comprises Golf's Best Short Stories & Boxing's Best Short Stories. Fishing has long been a favourite sport but it is, of course, also a source of delight for storytellers all over the world.

Edited by Paul Staudohar, this volume contains work by Stephen King, Robert Travers, Annie Proulx, PJ O'Rourke, Phiip Wylie and many more. It is guaranteed to give many hours' happy reading to anyone with a passion for fishing.

The tales cover all kinds of fishing in all kinds of places by all kinds of people, from the solitary fisherman to the competitive sportsman and the young kid dreaming of being the next fishing great. Many of the stories were published originally in magazines such as the New Yorker and Playboy.

Grab a copy of this book and you can either have a lovely weekend's reading or you could combine this with a copy of Norman Maclean's A River Runs Through It and find yourself with the perfect gift for the fisherman in your life. Why not come into the shop and have a look at our fishing section or browse the online stock.