Fifty Years Adrift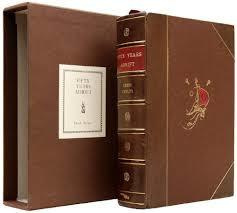 Fifty Years Adrift by Derek Taylor and George Harrison (Editor)

This is a limited numbered edition which is signed by the author and also by the editor George Harrison. It comes in a dark brown heavy card slipcase. It is a small quarto with dark brown cloth boards and polished dark brown leather corners & spine. On the spine, there is gilt lettering in a red title panel between five raised bands. An attractive gilt & red ship motif sits in the middle of the front board. All the page edges are gilt.

It is very expensive but would be a great present for the music lover in your life. There is plenty of coverage of Derek Taylor's contact with elite musician such as The Beatles, The Beach Boys, and Roy Orbison. The layout of the book is intriguing. It is a beautiful edition. Has to be seen to be believed.