Every Kind of Weather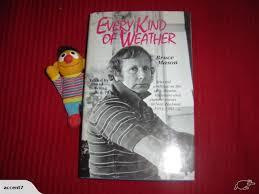 Given the weather forecast for tonight and the next couple of days, you could be forgiven for thinking this is about snow, gales, rain and miserable conditions. It is not.

This book is a collection of Bruce Mason's essays, letters and criticism selected from his almost thirty years of comment on New Zealand's cultural life. There is everything from literary criticism to comment on the Beatles' visit, musical appreciation to linguistic observation on the kiwi accent, and letters to many famous New Zealanders (and foreigners too) such as Witi Ihimaera, Charles Brasch, Sylvia Ashton Warner and Roger Hall.

This may be The End of the Golden Weather for us (pun intended) but this collection of writings by Bruce Mason will keep you entertained for hours as you snuggle down in front of the fire and keep out of the cold.