Eminent Outlaws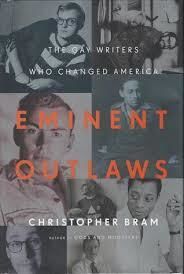 Truman Capote, Gore Vidal, Tennessee Williams, James Baldwin, Christopher Isherwood,
Allen Ginsberg, Edward Albee, Edmund White, Armistead Maupin, Marty Crowley et al: what do they have in common? Just have a look at the title of Christopher Bram's book Eminent Outlaws:The Gay Writers who Changed America and you will have the answer.

This book chronicles fifty years of change in the USA, from the civil rights movement to AIDS and beyond, by "weaving the writers' lives, ambitions, affairs, feuds, and loves" into a narrative which provides a very different approach to 20th Century America.

These gay writers, who are major cultural figures and whose names are known to all, were very influential with their novels, poetry, and plays. Christopher Bram writes a fascinating combination of cultural history, literary criticism and biographical detail which brings not only the period but also the writers alive. This history of gay writing and gay writers is not to be missed.