Dunedin Public Library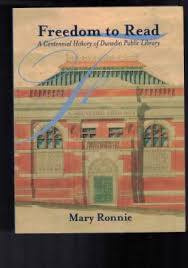 Freedom to Read
A Centennial History of Dunedin Public Library
by Mary Ronnie

I know we are a second-hand bookshop - but all readers love libraries and second-hand booksellers are no exception. Mary Ronnie's book traces over 100 years of the Dunedin Public Library's history from its inception in 1908.

The book is more than a dry historical document (although of course it has some of that as well), it also brings alive the buildings, the personalities, the collections and the controversies. Included is a story about Mary Ronnie's own run-in with the famous AH Reed. He had generously donated a superb collection of mediaeval illuminated manuscripts & bibles to the library. HOwever, according to Ronnie, he still more or less considered it his own and wanted to rip one of the illustrations out to have it framed and hung elsewhere. The ensuing fracas makes for interesting reading and, as I said, brings history alive.