Dreams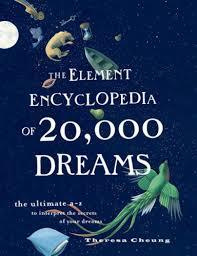 Unlock the secrets of your dreams. Get a copy of Theresa Cheung's
The Element Encyclopedia of 20,000 Dreams: The Ultimate A-Z of Your Dreams

If you are playing a team game in your dream, this reflects how well you feel you are performing in a group (lazy, fair, a good sport, a cheat, a team player or a limelight-hogger).
If you see a judge or a courtroom, you are dealing with some moral confusion in your life.
If you're eating cheese in your dream, you are in for potential profit or gain.
If you're wearing an overcoat, it suggests you're hiding vulnerability.

Everyone dreams. Use this encyclopaedia to explore the world of your dreams and dream interpretation. Surprise yourself with the symbolism and psychology of dreams.