Drake's Drum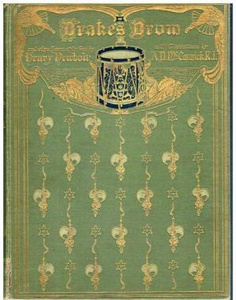 Drake's Drum and Other Songs of the Sea
by Henry Newbolt with illustrations in colour by AD McCormick

This is a lovely quarto volume of light green cloth boards with gilt lettering to the spine & front board. There is a dark blue and gilt drum motif to the front board and a gilt nautical motif to the lower spine. An attractive decorative rule made up of cream & gilt sailing ships adorns the rest of the front board. The tipped-in colour plates are each protected by a tissue guard.

Gunner and guns may all be right,
Flags a-flying and armour tight,
But I am the fellow you've first to fight -
The giant that swings the seas.