Continuing clocks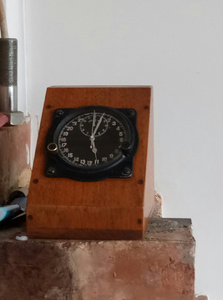 Clocks continued

By popular demand, here is a photo of the clock from the story featured last Thursday. It is back in its place in the living room, as you can see. It has been carefully repaired and the wood surrounds have been lovingly polished by Herman van Velthoven of Veltime Clocks in Broad Bay. I bet it hasn't looked this good for most of its long life.

Before bringing the clock home, we took it to see my mother. She said that when my father and his friend made their mountings for the clocks, she was very taken with Hugo's efforts which were far more elegant and pleasing to the eye than my father's. However, she said he was determined to mount the clock on exactly the same angle as it would have sat on the cockpit instrument panel and so beauty took a back seat. She also commented wryly that Hugo's clock undoubtedly will not have survived anywhere near as long as ours due to his happy-go-lucky approach to possessions and an obstreperous child!

So enough of my clock. Why not come in and peruse some of the books in our horology section? What about PRINCIPLES AND EXPLANATIONS OF TIMEKEEPERS by Harrison, Arnold and Earnshaw or SOME OUTSTANDING CLOCKS OVER SEVEN HUNDRED YEARS 1250-1950 by Alan H Lloyd or OLD CLOCKS AND WATCHES AND THEIR MAKERS by FJ Britten.